I am constantly in pursuit of real-life heroes and heroines of many eras that match my daughters' personalities and passions.  In my house, we prefer picture books to spark our interests in history.  In this past week alone, my girls discovered kinship with figures of our past by reading these great picture books about Elinor Smith, Waterhouse Hawkins and Odetta.   In addition to these cultural icons, history came to life in a big way with one of our World's greatest Icons in the Exhibition of Cleopatra at the California Science Center (up until December 2012).  With an emphasis on Cleopatra's clever nature in overcoming obstacles, my daughters found her story to be both impressive and relevant.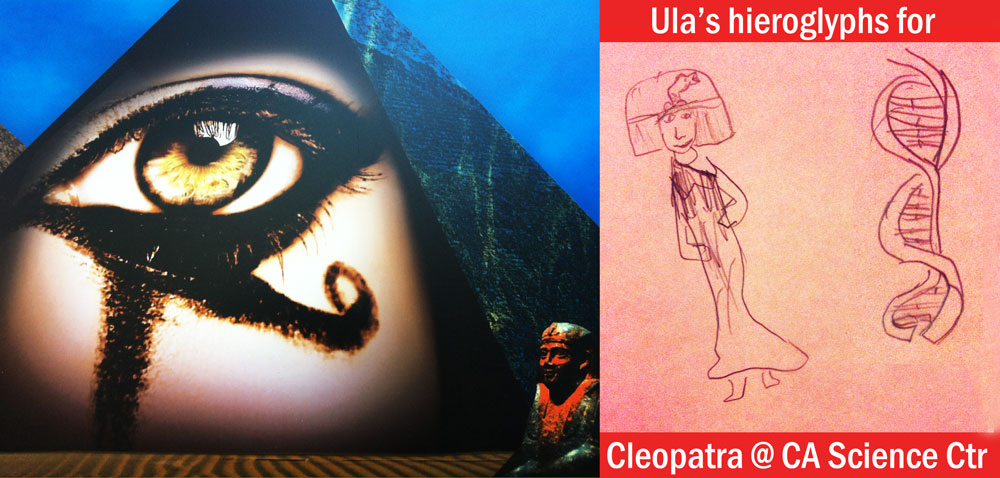 Here are a few tips to deepen the impact of Cleopatra: Last Queen of Eqypt or any Art or Historical Exhibit.
1. Read a story or picture book about the historical figure or artist the day before you go to an exhibit.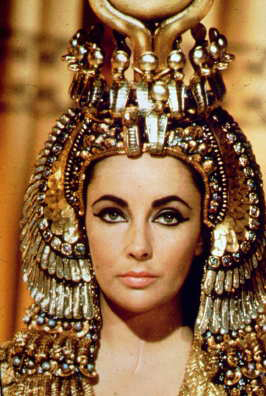 Personally, I had a hard time finding the right book for my kids on Cleopatra that was interesting enough or age appropriate.  There is plenty on Pyramids & Mummies.  From my varied internet searches, I strung some Cleopatra facts into a fun tale.  "At age 14 she became Pharoah, the Egyptian word for Queen. "Pharaoh" is the same word for men and women, unlike "Queen" & "King."  I shocked them with the fact that she had to marry her brother. I assured them that it was not for making babies – just required of a female Pharoah to rule the kingdom.  One day she was a princess and the next a Pharoah, which also meant she became the Goddess Isis to her people.  Royal girl to Goddess in a day.  They loved hearing how she smuggled herself into Caeser's palace rolled up in a rug.  I painted a picture of her beauty and jewels from scenes I remember of Elizabeth Taylor's unforgettable performance (click for full movie).   I did share how she ended her life at age 39 – by choice – by getting a deadly Asp to bite her  (a way to become immortal by Egyptian standards).  And how it must be true, for no one has forgotten her for over 2,000 years. My story-telling ended when I explained how her children's lives (5 in total) were threatened by those who wanted to prevent them from inheriting and ruling Egypt or the Roman Empire since her children were heirs to both. This small taste of her life, put Cleopatra on their curiosity radar.
2.  Visit the Gift Shop first and let everyone pick out one or two postcards of the art or artifacts they want to see.
This tangible (and affordable) item increases their desire to learn something extra about the history behind the image.  It might be the beginning of a collection that will inspire inventions or art projects.  We use the cards as clues on a museum scavenger hunt.   They also make it easy for staff to direct you where you want to go.  In lieu of cards, you can task each child with finding something relevant to the story or the book you read.  Getting keepsakes from the giftshop at the beginning can prevent visiting after the exhibit and spending money I would rather use for ice-cream on the way home.
3. Utilize the institutions' audio tours, print-out activities, or programs.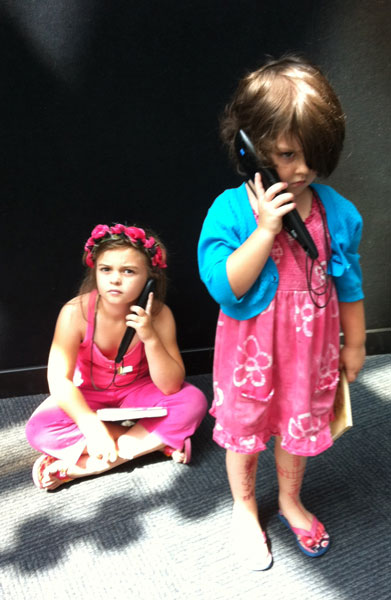 Many exhibits of this caliber post activities online to print out at home or provide if requested.  For Cleopatra, we checked out (free of charge) the hand-held audio tour.  Instead of requiring my girls to walk along my side, I let them go on their own (respecting our museum rules: no running, soft voices, and being aware not to displace anyone else's experience).  The girls teamed up and searched for numbers like scavenger hunters.  Once at the display, they sat down and punched the corresponding buttons and listened to Cleopatra tell more of her story.  Well done Nat'l Geo Society – the exhibit's sponsor!
4. With open-ended questions, encourage children to formulate their own ideas about history.
If you lived during this time, what would you do? Why were so many things buried beneath the sea and sand?  Why do you think Goddio & Hawass retrieved them? What do you think Cleopatra ate?  What kind of foods were available?  What Egyptian item would you want in your home and why?  Why does it matter if she was more beautiful (legends) than stoic (depicted on coins). Their exhibit staff loved answering our questions (like where was the lighthouse) and when they couldn't, they called up experts on their walkie-talkies to get answers for us. (Way to go CA Science Ctr!)
5. Arm your children with sketchbooks and task them with finding some object of interest to record with pencil or ink.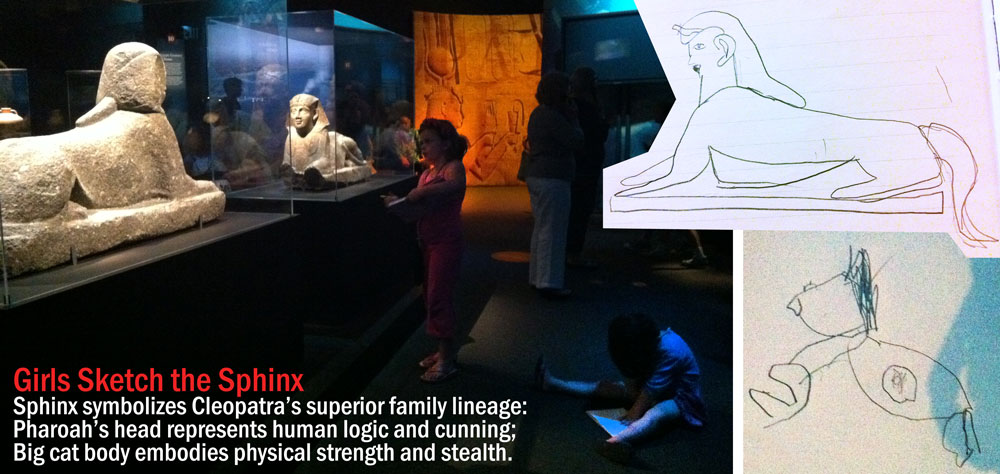 This is my personal addition to most visits we make to art or historical exhibits. It dramatically lengthens the amount of time they spend in an exhibit.  It is a hands-on activity which which helps children feel engaged and fulfilled.  By sketching, you become a detective observing what might otherwise go unnoticed. The girls sketched the Sphinx, Cleopatra and other items of interest. This "tangible keepsake" of their own design, becomes a great mnemonic device when sharing their day with Dad later that night.  I usually request that they sketch one cool thing they saw in order to teach us about it at the end of our day.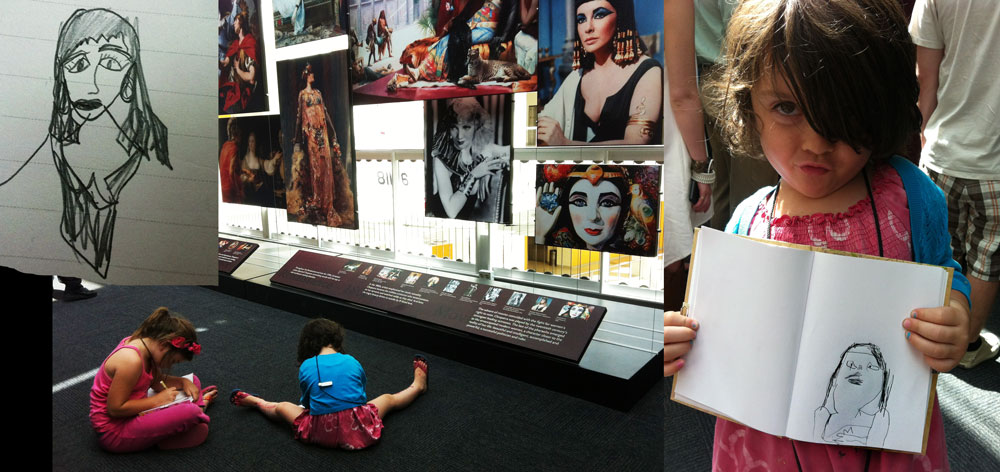 You can bring or buy sketchbooks, but don't forget you can easily make your own books at home.  Let the kids make their own and decorate it for even more buy-in.  Take 3-5 pieces of copier paper, fold in half and staple on the crease.  Voila – a personalized book.  We make many books at our house, for many purposes.  I prefer to add a piece of colored paper on the outside as a cover and newsprint for the innards (next time you are wrapping your breakables at Ikea, grab a few extra sheets for bookmaking).
6.  Look for the tactile activities, craft stations, or make up your own.
In the exhibit, there are two items that you can spin hard to witness sand moving underwater.  This is part of the knowledge utilized by Goddio & Hawass who unearthed many of these artifacts from the mouth of the Nile in Alexandria.  Getting a chance to use their physical body is a way to create a comfort zone for active children.  In lieu of such hands-on toys, we play Statue-Posing in and outside of museums.  One person poses and the rest have to guess which statue they are mimicking.  I love this because it again encourages deeper observation to determine what each hand, leg and face are doing in order to play the game well. This game leads me to ask what feelings the person depicted was experiencing.  It is amazing how spot on kids can be.  Kids read body language! For a fun Egyptian crafts, make your own cartouche necklaces from copper sheets.  Armed with scissors, a ribbon and a stick, to emboss your hieroglyph, you can turn a piece of copper sheet into a priceless Egyptian artifact fit for a Pharaoh.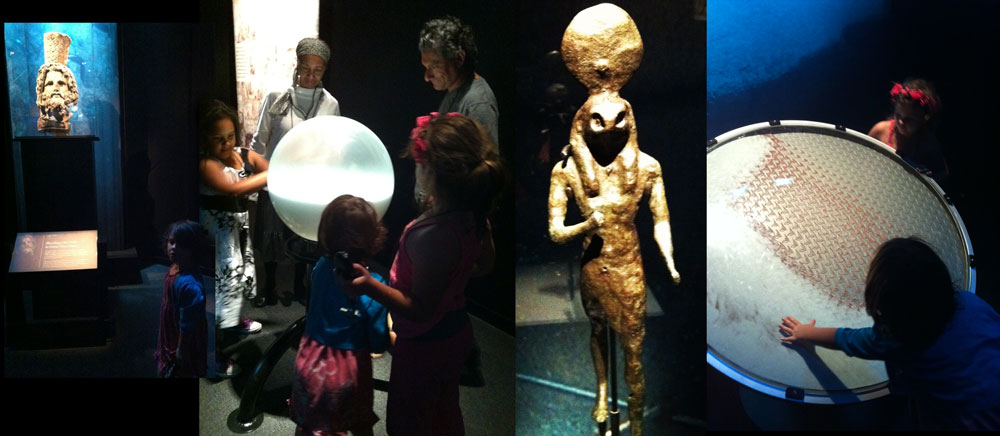 7. Get the Inside Scoop
Don't forget to call ahead and get chatty with the staff for tips only they can provide.  I found this online promotion code "QUEEN" for $3-$4 off tickets.  We inquired about the best time to arrive and were advised to go after 1:00 to avoid school groups.  We found parking on a nearby side street (West 37th place) off of Figuero that has 4 hour parking ($1/hour) vs the $10 for the museum lots.  It is next to Quiznos, Chik-fil-a, Chipotle, Coffee Bean, Coldstone and a no MSG Chinese restaurant- alternatives to the McD's in the museum.

8. Break it Up
By taking food and/or outdoor nature breaks you can help kids (and parents) get refreshed instead of burnt out.  We enjoyed our lunch in the Rose Garden just outside of the museum.  I share a flexible schedule with the girls around your food breaks.  "First we can explore the outdoor sculptures and finish snacks, while I get our tix. Then we will go to the store before the exhibit.  Then outside for lunch.  And back in for the non-Cleopatra stuff you want to explore.  Then another snack/dinner. " And I usually stop for ice-cream about halfway home (and point out how much we saved by not buying more at the museum). While we enjoy our treat, we share what was fun or memorable about the day.  This helps leave a great taste in our mouths and minds about the day's adventure.

And PLEASE don't miss taking a walk through the completely Sustainable – Zero Impact Hanwha Solar-house temporarily located between the museum parking lot and the box office.
And if you are looking for Egyptian crafts or activities to do in conjunction with this exhibit, before or after your visit see my blog on Mummies & Pyramids from last year.  Sarcophagus for dolls & action figures, copper necklace cartouches, and a ticker tape timeline for children to get a sense of how long ago the Pyramids of Giza were erected and Cleopatra, the last Pharoah of Egypt reigned.